It's rainy today in Fairfield. Two days ago it was 93 degrees and now it's a cool 60 as I sit in the cafe of The Beauty Shop in town.  We finally have a coffee shop that's open past 5pm on weekdays and you can tell it was much needed just by looking around any day you come to visit. Between the constant awesome concerts and great coffee, it's not hard to see why so many young fairfielders are often here. Including myself.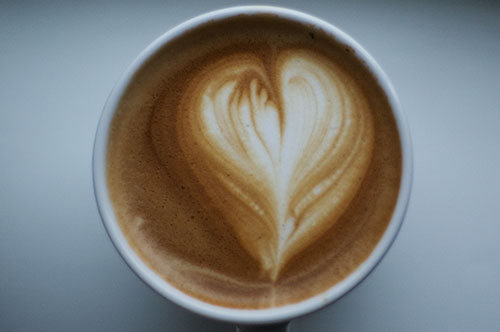 In case you didn't notice from my Revelations cafe review, I like coffee shops. No, scratch that, I love coffee shops. I've traveled an hour and a half away to Iowa City simply to sit at Barnes and Noble with my regular Vanilla Latte(skim milk, whip cream, half the syrup, and an extra shot of expresso in case you were wondering). To most, that sounds rather crazy. But I love coffee. For me, it just feels like home. There's something about a vanilla latte that wakes up my sleeping inspiration and gets me through a day that might otherwise feel a bit monotonous. I'm restless, problematically so but with a vanilla latte sitting next to my open computer and a new textedit document blank and waiting, I feel at peace. In fact, I've just finished sitting in one spot for a good hour and a half having written more in one sitting than I've managed to in over a month.
Maybe this is irrelevant to you, perhaps you're reading this and going, "I'm really a tea person." Maybe it's not the same for tea people, I really wouldn't know. Any given day of the week you'll find me sitting in class drinking my mug of black coffee signaling my brain that the day has officially begun, function please.
It's about this point in my writing of this blog post that I've begun to wonder how this is possibly relevant to MUM. Well, if you do happen to be a coffee person like myself, you can rest-assure that fantastic coffee is in grand supply here in Fairfield. Fear not, your coffee addiction will be well maintained.
Do you really need more relevance than that?
Only if you're a tea person.
Much love <3